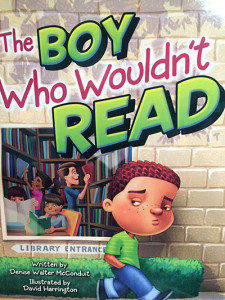 Robbie doesn't like to read. Homework is horrible, libraries are boring, and his parents won't stop nagging him to pick up a book! Robbie wishes that he never has to read again. When the sorcerer Sileas appears to grant his wish, Sileas tries to warn Robbie that he'll be sorry for his stubbornness. But Robbie won't listen, and with a twirl of Sileas's magic wand, all the words in the world disappear.
Robbie's wish has come true, but the world is not the carefree place of his dreams. Street signs are blank and money is worthless. Robbie is lost and alone, and without street signs, it is difficult to find his house. Without traffic signs, cars are crashing and people are confused about which bus to catch. When he finally makes his way back home, he thinks that life can't get any worse-but that's before he tries to fix himself a meal without the help of any food labels. What Robbie thinks is frozen pizza are actually popsicles, and his cookies are dog biscuits!
This topsy-turvy world without words isn't fun-it's dangerous, and Robbie is getting hungry. Sileas the sorcerer reappears, and Robbie tries to tell him that he's learned his lesson. But will the word-wielding wizard restore the world with words?
---
Great book, good read. My daughter enjoyed reading it. There is a great moral to the story with wonderful twists I between.
— Berenice Guerrero, Amazon Reviewer
Robbie doesn't like reading. With the sweep of a sorcerer's magical wand, he no longer has to worry about this dreaded activity. In this rhyming book, his expression goes from boredom to glee to horror as he gets a glimpse of a world without words. Colorful lively illustrations make readers realize that reading doesn't only take place in the pages of a book. This story has the potential to open up a whole avenue of discussion about where we read and why reading is an important skill.
— Linda Zajac, Amazon Reviewer
We received our book today and it is stunning in both prose and pictures. Both of my kids have just gotten it and have read it now several times. The main character Robbie is extremely relatable (especially) to my son! The distinct rhythms of the paragraphs were great in our fluency practice. The creativity pulled them and held them from start to finish. Kudos to Mrs. McConduit!
— Keyana J. Fletcher, Amazon Reviewer
My gifted fifth grade son does not enjoy reading. In order to keep up with the reading requirements for the gifted education program, we've had to bribe him, and come up with reward systems to make it through the 300+ page books every three weeks. I ordered this book to add to the library in my fourth grade classroom. When my son saw the book on the front seat of my car, he read the title and began to read the book. After he got to the end, he said, "O.K., I get it. I'll read more. It's important." Message received! Thank you for delivering an encouraging message about the importance of reading.
— Charlice Noble-Jones, Amazon Reviewer
The book was great. As a teacher that has experienced so many boys that do not like to read, this will work great in the classroom. I ordered several copies to give as gifts to the boys in the family as well. The illustrations went great with the text and the young boy was brought to life. As with this book as well as with the other books from this author, we can all relate to these experiences. I can't wait until the next book comes out. Every elementary classroom needs to have this in their class library as well as in the school library. I congratulate the author for bringing us something so meaningful.
— Lois A. Jones, Amazon Reviewer