Denise Walter McConduit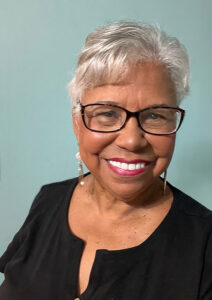 Denise lives in New Orleans, Louisiana the birthplace of jazz and other unique customs like Mardi Gras, Jazz Festivals, and Debutante balls. Denise grew up in a large family of thirteen children. As a child she used to entertain her siblings by reading and putting on plays. She began writing poetry at an early age and then studied art. Her first magazine article was published in 1982 in Black New Orleans magazine. Later she had articles published in Essence Magazine and the New Orleans Tribune magazine. She currently writes a weekly column for the Times Picayune newspaper focusing on the recovery of her neighborhood after the devastation of Hurricane Katrina.
Preserving cultural traditions through family stories is important to Denise. It's how she grew up and it's what she passes on. Her first book, "D.J. and the Zulu Parade" is about the adventures of her son, "D.J" when he rode in a Mardi Gras Parade. That book led to two other stories about the intrepid boy: "D.J. and the Jazz Fest" and "D.J. and the Debutante Ball".  McConduit feels that writing culturally rich books are essential because it's important for children see themselves in literature.
Her newest book is titled, "The Boy Who Wouldn't Read". In this book young readers will meet Robbie, a stubborn little boy who doesn't like to read. His wish is granted when a magic sorcerer removes the words from everything and that's when his world gets topsy-turvy! He soon learns that life without reading is nothing to wish for! Denise often advises aspiring young authors, "Do you have any interesting or funny characters in your family? If you do, you may want to write a story about them. I did!"
McConduit has four children, Crishelle, Monique, Erika and D.J. It was her son D.J.'s experience as a page in the Zulu Parade that gave her the idea for the first book in the series. Denise has always been an avid reader and writer. Her personal mission is to write fun and meaningful stories for children.
Denise holds an English degree from the University of New Orleans and is available for conferences, library and school author visits.